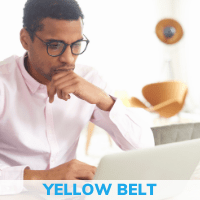 Learning goals LCB Yellow Belt training course
History
You know the historical development of Lean.
Lean principals
You understand customer value, value stream, flow, pull and perfection.
Waste
You recognize waste and value-added activities.
Continuous improvement
You investigate the rootcause of a problem with Kaizen.
Attitude and behavior
You understand how the human factor plays an important role.
Practice
You participate in daily and weekly start-ups and apply sit-ins and SOPs..
The interaction with other course members – using games and exercises – provides new insights and ideas.
Increase your knowledge and your network!
What our participants say
"Great to be able to follow a substantive Lean training online during this Corona period."
"Fun and informative training. I could easily apply the clear tips to my work."
"The trainer used a good combination of presentation and interaction to give a clear picture of what Lean is all about."